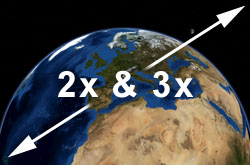 2x and 3x screenshot magnifier
This plugin allows you to save the current screen image at 2x or 3x its size with a better overall resolution suitable for printing.
With the default WW window size, the 3x factor is the equivalent of taking pictures with a 5 mega pixels digital camera. A full 1024x768 screen would produce more than 7 mega pixels.
To produce a panoramic view, simply shrink your WW window vertically to get a wide rectangle. The horizontal field of view will automaticaly widen.
Note : for technical reasons, the 3x magnifier will only render the ground terrain - no stars, atmosphere, sky, borders or placenames...
Version history (Show)